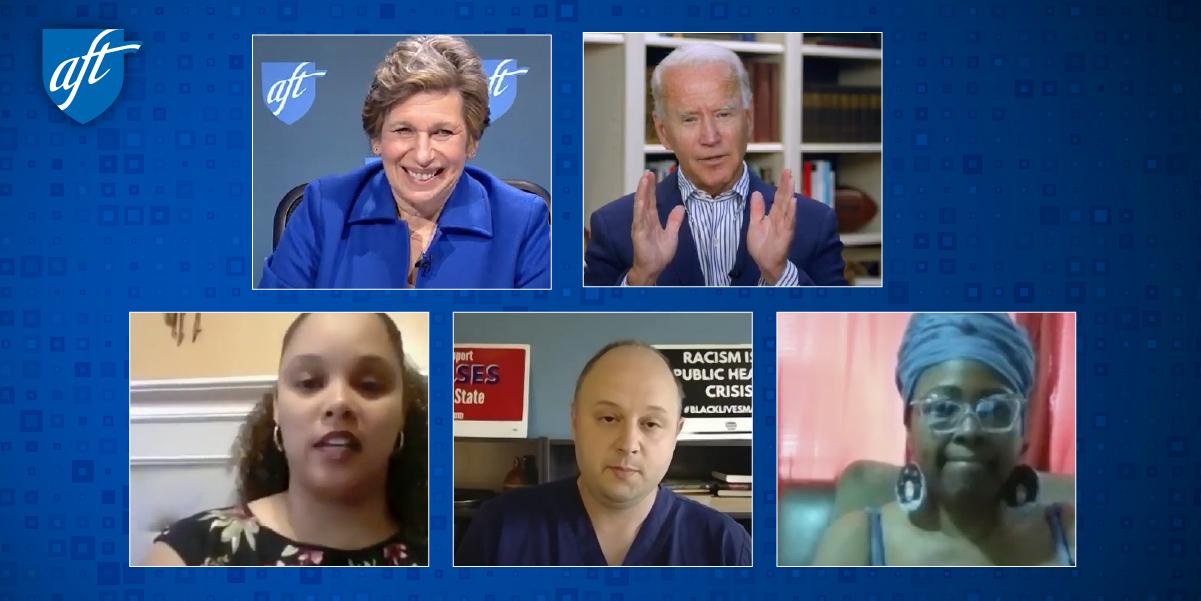 In a dialogue with delegates to the 2020 AFT national convention, presumptive Democratic presidential nominee Joe Biden said Americans are on the threshold of historic change and opportunity. While acknowledging that the nation is confronting three major crises simultaneously—the COVID-19 pandemic, severe economic recession and unemployment, and the fight to end systemic racism—Biden said it is in times like these that the United States has made its most progressive choices.
Why AFT members are voting in the coming election.
Former VP Joe Biden speaks with AFT president Randi Weingarten and AFT members about how he would handle the three crises we face in America – the healthcare crisis, racial justice crisis and economic crisis. #AFT20 #AFTvotes
Why the American Federation of Teachers endorses Joe Biden for President of the United States.
Former VP Joe Biden held a virtual roundtable discussion with healthcare professionals to discuss how COVID-19 is impacting their lives at work and at home. Two of our AFT nurse members were part of that discussion.
AFT co-hosted the Public Education Forum 2020 in Pittsburgh with seven of the major presidential candidates discussing public education and taking questions in front of an audience of nearly 1,500 people. The candidates addressed how the narrative has changed regarding the promise and purpose of education and what we need to ensure all children have the opportunity regardless of their demography or geography. Watch the entire forum here